Need a mobile app for your organization's website?
Your SOCS website has always had a responsive mobile view. But now we're offering a mobile app to every SOCS client, free of charge.* Because we know your readers are on-the-go.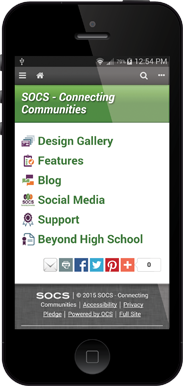 The SOCS mobile app has technologically up-to-trend features, designed to make your website even more mobile (and user) friendly.

Connect and communicate with your community easier with our organized and user-friendly app.

Contact us today to learn more.
*Our mobile app is free to all SOCS clients. For inclusion on Google Play on the App Store, there will be a nominal initiation and maintenance fee. Contact us to learn more.